Homemade Prepared Meals To Go!
No Time to Cook? Meet the "Other" Fast Food!
Our homemade meals to go are the perfect solution for the busy family who wants a healthy homemade meal.
Dozens of Choices
With over 3 dozen choices daily, you can have a different healthy prepared meal every night of the week. Perrotti's selection of pre made foods is always growing and provides a large assortment of heat-and-serve meals for your whole family.
Traditional American Classics, Italian Meals and Soups...
Some of our Italian dishes include Eggplant Rolatini, Chicken Parmesan, Chicken Marsala, Meat Lasagna, Baked Ziti, Homemade Meatballs, and more. We also offer, more traditional comfort foods such as Chicken Pot Pie, Shepard's Pie, Stuffed Cabbage, and Beef Stew. Side dishes include Macaroni and Cheese, Sauteed Broccoli Rabe, Mashed Potatoes, and the list goes on. You'll also find scratch-made soups and stews made in-house with the freshest ingredients.
Need larger portions? or Catering?
Below is our prepared meals menu. If you need larger portions, please visit our catering section.
Homemade Prepared Meals Menu
Soups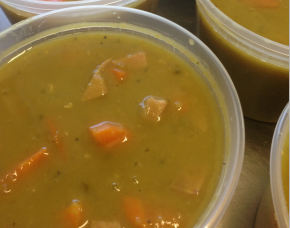 Pea Soup
Items
Price
Beef Barley
Pint -Feeds: 1-2/Quart -Feeds: 3-4

$4.99/$8.99
Pea Soup
Pint -Feeds: 1-2/Quart -Feeds: 3-4

$4.99/$8.99
Pasta e Fogoli
Pint -Feeds: 1-2/Quart -Feeds: 3-4

$4.99/$8.99
Chicken Soup
Pint -Feeds: 1-2/Quart -Feeds: 3-4

$4.99/$8.99
Minestrone Soup
Pint -Feeds: 1-2/Quart -Feeds: 3-4

$4.99/$8.99
Tomato Bisque
Pint -Feeds: 1-2/Quart -Feeds: 3-4

$4.99/$8.99
Cream of Mushroom
Pint -Feeds: 1-2/Quart -Feeds: 3-4

$4.99/$8.99
Broccoli Cheddar
Pint -Feeds: 1-2/Quart -Feeds: 3-4

$4.99/$8.99
Italian Wedding Soup
Pint -Feeds: 1-2/Quart -Feeds: 3-4

$4.99/$8.99
Escarole and Bean
Pint -Feeds: 1-2/Quart -Feeds: 3-4

$4.99/$8.99
Lentil Soup
Pint -Feeds: 1-2/Quart -Feeds: 3-4

$4.99/$8.99
Beef Stew
Quart -Feeds: 3-4

$13.99
Chili
Pint -Feeds: 1-2/Quart -Feeds: 3-4

$7.99/$13.99
Salads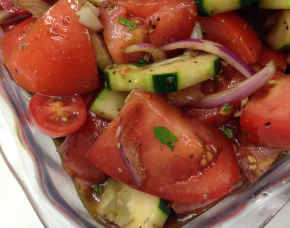 Italian Tomato Salad
Items
Price
Caprese Salad
Tomato, Mozzarella, Basil, Extra Virgin Olive Oil
8 portions

$8.99
Garden Salad
Mixed Greens, Red Onion, Cucumber, Grape Tomatoes
Feeds: 2-3

$5.99
Baby Arugula Salad
Red Onion, Grape Tomatoes, Shaved Romano Cheese with White Balsamic Dressing
Feeds: 2-3

$6.99
Tricolor Pasta Salad
Tossed with Chopped Onion, Celery, Shredded Carrots, Sliced Black Olives, Bell Peppers and Italian Vinaigrette Dressing
16 oz. container

$4.99
Three Bean Salad
Chopped Onions, Bell Peppers, Celery, White Balsamic Vinaigrette
16 oz. container

$4.99
Italian Tomato Salad
Vine Ripe Tomatos, Sliced Cucumbers, Sliced Red Onion with Fresh Basil Tossed in a Homemade Balsamic Vinaigrette

$5.99 lb.
Macaroni Salad, Potato Salad or Cole Slaw

$3.99 lb.
Red Skin Potato Salad

$5.99 lb.
Bruschetta
Fresh Dice Tomatos, Chopped red Onion and Green Bell Pepper, Seasoned in a White Homemade Vinigarette/Serve with Homemade Crostini (Toast Points)
16 oz. container -Feeds: 8-12

$7.99/$2.99
Sides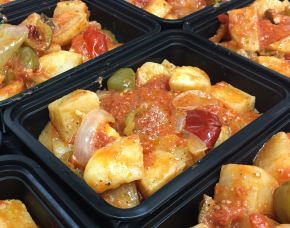 Potatoes & Vinegar Peppers
Items
Price
Potatoes Oreganato
Oven Roasted with Onions, Romano Cheese, Spices and Olive Oil
24 oz. -Feeds: 2-4

$10.99
Potatoes & Vinegar Peppers
Sautéed with Garlic, Plum Tomatoes, Vinegar Peppers and Olive Oil
24 oz. -Feeds: 2-4

$10.99
Mashed Potatoes
Scratch Made with Milk, Cream Cheese, Sour Cream and Salt & Pepper
24 oz. -Feeds: 2-4

$10.99
Oven Roasted Sweet Potatoes
Seasoned with Fresh Garlic, Thyme, Olive Oil, Salt & Pepper
24 oz. -Feeds: 2-4

$10.99
String Beans
Blanched and Tossed in Italian Seasoned Bread Crumbs with Olive Oil
16 oz. -Feeds: 2-4

$7.99
Broccoli Rabe
Sautéed in Garlic, Olive Oil, Salt, Pepper, and Homemade Stock
16 oz. -Feeds: 2-4

$9.99
Spinach
Sautéed in Garlic, Olive Oil, Salt, Pepper, and Homemade Stock
32 oz. -Feeds: 2-4

$9.99
Creamed Spinach
Steakhouse Style
Small -Feeds: 2-4

$7.99
Baby Carrots
Steamed and Tossed in Salt, Pepper, and Honey
Small -Feeds: 2-4

$6.99
Rice Balls
Pancetta, Onions, Mozzarella, and Ricotta, Breaded and Fried
Small -Feeds: 2-4

$10.99
Grilled Asparagus
Grilled Asparagus Topped with Sautéed Sun Dried Tomatoes, Seasoned with Balsamic, Oil, Salt and Pepper
Small -Feeds: 2-4

$11.99
Stuffed Mushrooms
Stuffed Mushrooms Stuffed with a Sausage and Breadcrumb Stuffing Seasoned with Salt Pepper Garlic Onion and Parsley
Small -Feeds: 2-4

$11.99
Brussel Sprouts
Oven Roasted Brussel Sprouts Seasoned with Salt Pepper Garlic and Olive Oil
Small -Feeds: 2-4

$7.99
Pizza
Items
Price
Plain Pizza
Hand Pressed Dough Topped with our Perrotti's Homemade Tomato Sauce and Mozzarella
Feeds: 1

$4.99
Pepperoni Pizza
Hand Pressed Dough Topped with our Perrotti's Homemade Tomato Sauce, Mozzarella and Pepperoni
Feeds: 1

$5.49
Raviolis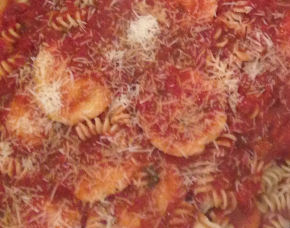 Raviolis
Items
Price
Cheese
12 ct.

$5.99
5 Cheese, Whole Wheat or Meat
12 ct.

$7.99
Basil, Garlic, Pumpkin, Porcini Mushrooms, Eggplant or Spinach
12 ct.

$6.99
Shrimp
12 ct.

$8.99
Crab
12 ct.

$10.99
Lobster
12 ct.

$13.99
Cheese Mini Ravioli
36 ct.

$5.99
Pasta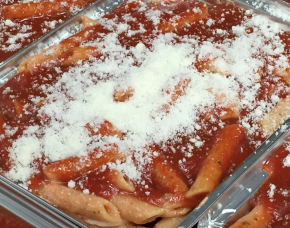 Baked Ziti
Items
Price
Baked Ziti
Ricotta, Mozzarella, Romano Cheese, Perrotti's Homemade Tomato Sauce
24 oz. -Feeds: 2-4

$10.99
Cheese, Meat or Spinach Lasagna
Seasoned Ricotta, Mozzarella, Perrotti's Homemade Tomato Sauce, Romano Cheese, Ground Sausage (Meat Only)
32 oz. -Feeds: 2-4

$14.99
Stuffed Shells
Seasoned Ricotta, Mozzarella, Perrotti's Homemade Tomato Sauce, Topped with Locatelli
9 ct. -Feeds: 2-4
$11.99
Fettuccine Alfredo
Fettuccine Pasta Tossed with our Homemade Ground Sausage in a Basil Plum Tomato Sauce
24 oz. -Feeds: 2-4

$10.99
Cavetelli & Broccoli
Broccoli Florets and Cavatelli Pasta Sautéed in Garlic, Olive Oil, and Topped with Romano Cheese
24 oz. -Feeds: 2-4

$10.99
Manicotti
Fresh Manicotti Shell Rolled with Mozzarella, Seasoned Ricotta, and Perrotti's Homemade Tomato Sauce
4 ct. -Feeds: 2-4 / 5 -ct. -Feeds: 2-4

$11.99/$11.99
Pasta Primavera
Pasta Primavera, Oven Roasted Garden Vegetables Tossed with Bow Tie Pasta in a Light Vegetable Broth
20 oz. -Feeds: 2-4

$11.99
Perogies
All Scratch-made Dough Filled with Potato and Cheese
12 ct. -Feeds: 3-5
$12.99
Rigatoni Bolognese
Rigatoni Pasta in hearty Perrotti's Homemade Meat Sauce
32 oz. -Feeds: 2-4
$12.99
Penne Vodka
Made with Perrotti's Homemade Vodka Cream Sauce
24 oz. -Feeds: 2-4
$10.99
Mac & Cheese
Made with Perrotti's Homemade Cheese Sauce
1 ¼ lbs. -Feeds: 2-4
$10.99
Classic Main Courses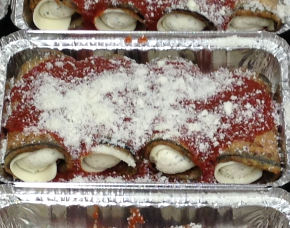 Eggplant Rollatini
Items
Price
Eggplant Parmigiana
Eggplant Cutlet Layered with Mozzarella and Perrotti's Homemade Tomato Sauce
24 oz. -Feeds: 2-4

$11.99
Eggplant Rollatini
Eggplant Cutlet Rolled with Mozzarella, Seasoned Ricotta, Perrotti's Homemade Tomato Sauce
4 ct. -Feeds: 2-4

$11.99
Chicken Parmigiana
Breaded Chicken Cutlet Topped with Mozzarella, Perrotti's Homemade Tomato Sauce, Romano Cheese
16 oz. -Feeds: 2-4
$14.99
Chicken Romano
Flour and Romano Cheese Crusted Chicken Cutlet Sautéed in Lemon White Wine Sauce
16 oz. -Feeds: 2-4
$14.99
Chicken Marsala
Breaded Chicken Cutlet Served with Mushrooms in a Brown Gravy Marsala Wine Sauce
16 oz. -Feeds: 2-4
$14.99
Veal Marsala
Breaded Veal Cutlet Served with Mushrooms in a Brown Gravy Marsala Wine Sauce
12 oz. -Feeds: 2-4
$19.99
Sausage & Peppers
Perrotti's Homemade Italian Sausage Tossed with Bell Peppers and Onions in Perrotti's Homemade tomato sauce
16 oz. -Feeds: 2-4
$12.99
Meatballs
Mixed Pork and Beef Seasoned to Perfection (Fully Cooked)
12 ct. -Feeds: 2-4
$11.99
Stuffed Cabbage
Hand Rolled with Seasoned Pork, Beef, and Rice, Slow Cooked in Perrotti's Tomato Sauce
4 ct. -Feeds: 2-4
$15.99
Chicken Fingers
All White Meat Tossed in Italian Seasoned Breadcrumbs (Fully Cooked)
-Feeds: 2-4
$9.99
Boneless Loin of Pork
Boneless loin of Pork Sliced and Served in Brown Gravy
Feeds: 2-4
$11.99
Turkey Meatballs
Ground Turkey Mixed with Spinach, Ricotta Cheese, Bread Crumbs, and Seasonings (Fully Cooked)
12 ct. -Feeds: 2-4
$11.99
Chicken Pot Pie
All White Meat, Peas, Carrots, and Potatoes Simmered in a Natural Gravy Topped with Puffed Pastry
Feeds: 1-2

$8.99
Shepherd's Pie
Seasoned Ground Beef and Pork, with Peas, Carrots, and String Beans, Topped with Homemade Mashed Potatoes and Shredded Cheddar Cheese
Feeds: 2-4

$15.99
Desserts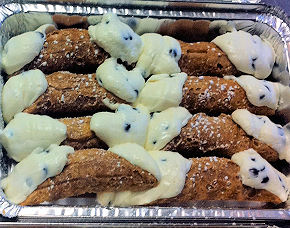 Hand Stuffed Mini Cannolis
Items
Price
Rice Pudding
Homemade made daily! (Milk, Eggs, Sugar, Rice, Vanilla)
12 oz. -Feeds: 2-4

$3.99
Mini Cannolis
Hand Stuffed
8 ct. -Feeds: 2-4

$7.99
Vanilla & Chocolate Pudding
16 oz. container
$3.99
Assorted Italian Cookies
per package
$5.49